News
August pubs
The ERG has authored two articles recently and received notice over the weekend both were accepted for publication Research led by two MS graduates, Stephanie Lawlor and Kurt Schmidt, will soon be appearing in the journals, Wetland Science and Practice and Wetlands, respectively. Both used remote sensing and ancillary data to improve our understanding of changes to the extent and form of Florida wetlands and water features through time. These contributions enhance our understanding of ecosystem form and function and have implications for water quality managment.
Summer 2023 Field Work in Alaska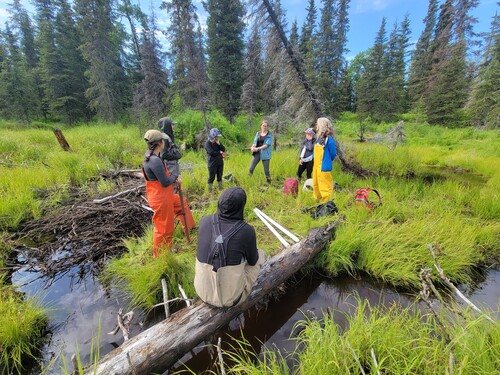 The University of South Florida Ecohydrology Research Group (USF-ERG) had a busy summer working alongside KBNERR and other partners and stakeholders on both existing and newly launched projects. Drs. Mark and Kai Rains and their PhD student Tyelyn Brigino were joined at times by two Ernest F. Hollings Undergraduate Scholars, Eojin Lee (Columbia University) and Maxwell Lyons (UC San Diego). The USF-ERG team continued a long-term study of the role groundwater plays in supporting salmon-bearing streams. This year, they continued focusing on spatial and temporal variability of groundwater, with an added focus on peatlands. They installed monitoring wells, installed continuous water-level and conductivity recorders, and collected water samples. This project has been funded through numerous grants over the years but is currently funded through a grant from the City of Homer with matching funds from the USF-ERG. The USF-ERG team also helped launch a new study on the roles beaver dams and beaver dam analogs might play in hydrologic restoration and the related support of ecosystem functions and services, including carbon sequestration. They helped select field sites and then installed monitoring wells and continuous water-level recorders. This project is funded by a grant from the Wildlife Conservation Alliance and is being conducted in collaboration with the Alaska Wildlife Alliance, the UAA-ACCS, KBNERR, and the University of Oregon.
Abby Reed, undergraduate researcher with ERG, and her award-winning Honors Thesis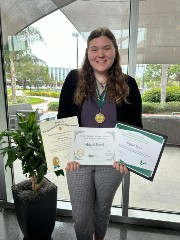 Abby's honors thesis The Distribution of Natural Wetlands and Artificial Wetlands in Different Socioeconomic Groups within the Tampa Bay Watershed , and related presentation at the USF Undergraduate Research Symposium has earned an array of well-deserved awards:
Judy Genshaft Honors College: The Honors Thesis Award
Excellence in Undergraduate Research: 2023 OneUSF
Undergraduate Research Conference General Discipline Award
This summer she heads to Delaware where she has secured an internship with the Delaware National Estuarine Research Reserve as a NOAA Hollings Scholar.
Abby's profile »
Tyelyn Brigino, now a PhD student!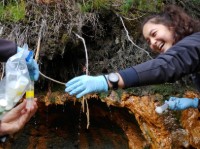 We are delighted to announce Tyelyn will be continuing her studies with the ERG as she earns her PhD in Geology. As an ERG masters student, Tyelyn has been studying the role of groundwater in maintenance of streamflow and peatlands in Alaska. She is a versatile and productive scientist: she collects her own water samples; conducts all the necessary labwork to determine the composition of cations, anions, and isotopes in her samples; performs the geospatial and data analysis to interpret her findings; and assists with project management and outreach. During her PhD research, she will further her skills in hydrological monitoring and modeling. Her research is supported by grants from the City of Homer (Alaska) and the Wildlife Conservation Society Climate Adaptation Fund; the School of Geosciences; and financial awards associated with an impressive array of scholarships and fellowships in recognition of her progress and of her promise as a scientist. Tyelyn's profile »
Former undergraduate researcher with ERG has been selected to be part of the 2023 class of Gates Cambridge Scholars at the University of Cambridge.
Aviva Intveld (MIT) and former Hollings Scholar co-hosted by the USF Ecohydrology Research Group and Kachemak Bay National Estuary Research Reserve is excited to start graduate school as a Gates Cambridge Scholar at the University of Cambridge Oct 2023. In her Hollings Scholar research project, she applied a geological context to interpret the geochemistry of groundwater in the Lower Kenai Peninsula, Alaska. She presented this research at the AGU conference in Grand Rapids, MI Dec 2023. For her graduate work, she will refine the use of paleoclimate and archaeological data to better understand how the natural environments of the past shaped historic human movement and decision-making, particularly during time of drought. We are very excited for her! Cambridge Scholars Announcement »
ERG students win top awards at national meeting - Leanne awarded Best Student Oral Presentation and Edgar awarded the Best Student Poster Presentation at JASM-SWS conference
Aviva Intveld, former Hollings Scholar co-hosted by the USF Ecohydrology Research Group and Kachemak Bay National Estuary Research Reserve is excited to start graduate school as a Gates Cambridge Scholar at the University of Cambridge Oct 2023. Her Hollings Scholar research project was focused on assessment of risks to groundwater resources in the Lower Kenai Peninsula, Alaska. Undergraduate Research Context »
Leanne was awarded the Mark Brinson Oral Presentation award at the Joint Aquatic Sciences Meeting-Society of Wetland Scientists held in Grand Rapids, MI in May 2022. This award is given "to recognize excellence in oral presentations". Leanne's award-winning talk was, "Vernal Pools, Swales, and Headwater Streams are Integrated Tributaries to Navigable Waters". Leanne will be presenting at the American Geophysical Union (AGU) conference Dec 2022. Come see her present "Influence of Hydrologic Connectivity on the Natural Flow Regimes of Archetypal Headwater Wetlandscapes"
Edgar won the Best Student Poster award at JASM-SWS for his poster "Groundwater Risk and Resilience in Social-Hydrological Systems". His work was further recognized by the American Geophysical Union. He was invited and funded to attend and present at the AGU Chapman Conference on "Solving Water Availability Challenges Through and Interdisciplinary Framework" Sept 2022 in Colorado.
Rivertrek- Paddling to raise funds to restore and protect the Apalachicola River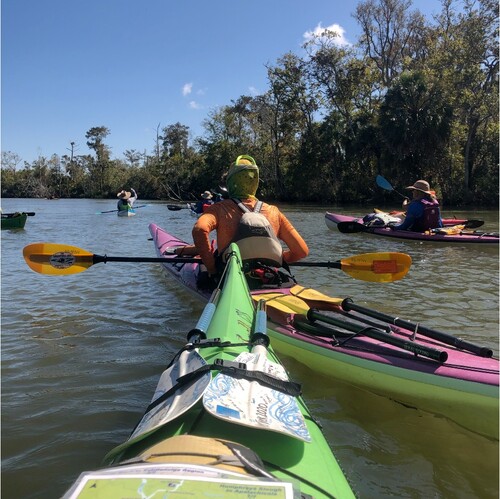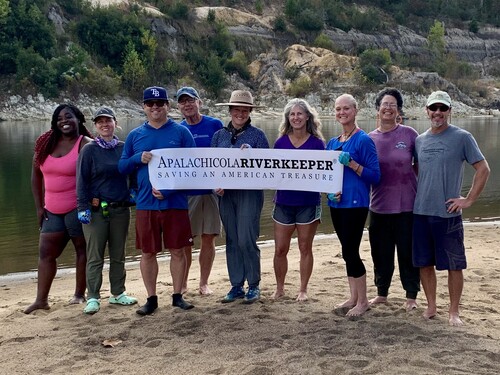 Kai participated in the annual Apalachicola Riverkeepers Rivertrek, a 5 day event in which paddlers kayak 107 miles of the Apalachicola River, camping along the way. This event is intended to raise funds to protect and restore this mighty river that delivers over 20% of the freshwater input to the Gulf of Mexico and is amongst the top five hotspots or biodiversity in the nation.
That corner is on fire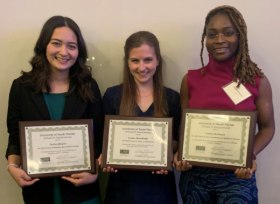 These three routinely sit side by side in the Ecohydrology Research Group lab and in 2022 managed to sweep top awards at the Geology Alumni Society Banquet. Leanne was awarded the Richard A. Davis Scholarship, Tyelyn was awarded the Craig B. Hutchinson Memorial Scholarship, and Tonian (Geophysics) was awarded the Karen D. Harrow Scholarship for Women in Geology. Rather a stunning accomplishment for this sunny corner of the lab
Award-Winning Poster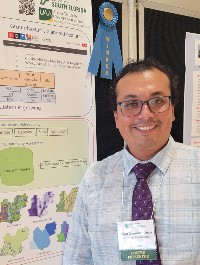 Edgar won the University of Florida Water Institute Symposium Student Poster Award in January 2022 for his poster on "Groundwater Vulnerability in Social-Hydrological Systems". This award comes with a plaque and $1000 for travel to his next conference. Hope he lets us tag along!
Dec 2022: Ecohydrology Graduate Students presentations
Leanne Stepchinski traveled to the American Geophysical Union conference in New Orleans to present her research with support from the Fred L and Helen M Tharp Endowed Scholaship fund. Her talk was titled: Headwater Wetlands or Headwater Streams? Hydrologic Connectivity and Flow Generation from California Vernal Depressions to Downstream Waters
Tyelyn Brigino, Edgar Guerron-Orejuela, and Leanne presented posters at the University of Florida Water Institute Conference with support from the Student Diversity Scholarship, Fred L and Helen M Tharp Endowed Scholarship fund (TB), and Margaret A Davidson scholarhip (E, G-O)
Tyelyn Brigino: Influence of Groundwater on Streamflow in Salmon-Bearing Streams
Edgar Guerron-Orejuela: Groundwater Vulnerability in Social-Hydrological Systems
Funding Awarded to Develop a Prioritization Tool for Restoration and Conservation Activities in the Indian River Lagoon Watershed
The US Environmental Protection Agency has awarded the ERG funding to develop a tool to facilitate identification of restoration targets to enhance conditions in the Indian River Lagoon Watershed. We are excited to work towards enhancing this estuary of national significance.
Florida Governor Ron DeSantis appoints Mark Rains as the Chief Science Officer for the State of Florida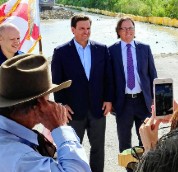 Details
Funding Awarded to Study New Technology to Combat Harmful Algal Blooms
The Ecohydrology Research Group is part of a team awarded $1 million by The Environmental Protection Agency (EPA) to research new techniques for prevention and control of harmful algal blooms in Lake Okeechobee. - View News Release
The Ecohydrology Research Group and the U.S. Supreme Court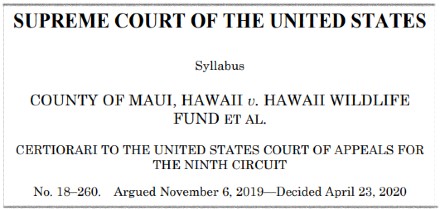 Mark Rains and three colleagues, backed by eight scientific societies and in collaboration with a national legal team, wrote an amicus brief to the Supreme Court of the United States on a case involving the Clean Water Act. The case, County of Maui, Petitioner, v. Hawai'i Wildlife Fund; Sierra Club-Maui Group; Surfrider Foundation; West Maui Preservation Association, Respondents (2020), was argued in Fall 2019 and decided in Spring 2020. In a 6-3 decision, the Court closed a massive loophole in the Clean Water Act, affirming for the first time that pollutants that travel through groundwater and then emerge into surface waters are in fact covered by the Clean Water Act. This ruling is important affirmation of the role of science in sound federal policy and decision-making. Justice Breyer, writing for the majority, cited our amicus brief while clearly laying out the scientific justification for the Court's decision. The full court opinion can be found here: County of Maui v. Hawaii Wildlife Fund
Media Coverage
Related Seminar by Mark Rains and David Kaplan (UF)