Edgar Javier Guerrón Orejuela PhD student, Geology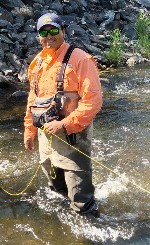 My research interests lie at the intersection of physical, life, and social sciences. I seek to understand the influence of hydrological processes on natural systems, and how human activity affect, and is affected by, these processes and systems. I apply concepts of geology, hydrology, GIS, qualitative mixed methods, and collaborative science to gather, process, and analyze information that identifies hydrologic processes, key stakeholders, and the relationships between them. I use this information to develop groundwater vulnerability models were physical and social components interact with each other, providing a different and novel approach to groundwater vulnerability modelling. My continued passion for understanding and communicating the interrelations between nature and people have allowed me to conduct academic and applied research geared towards serving different communities in Alaska and Florida by creating shared understanding of natural and social resources. I aim to make science available and accessible to non-scientific communities, in turn enhancing local community awareness of the challenges they face and their potential solutions to promote stewardship, protection, and management of natural resources.
Research Links
Publications
Gerlach, M. E., Rains, K. C., Guerrón-Orejuela, E. J., Kleindl, W. J., Downs, J., Landry, S. M., & Rains, M. C. (2021) Using Remote Sensing and Machine Learning to Locate Groundwater Discharge to Salmon-Bearing Streams. Remote Sensing Remote Sensing Volume 14 (1) https://doi.org/10.3390/rs14010063
Sethi, S. A., Carey, M. P., Morton, J. M., Guerron-Orejuela, E., Decino, R., Willette, M., Boersma, J., Jablonski, J., & Anderson, C. (2017) Rapid response for invasive waterweeds at the arctic invasion front: Assessment of collateral impacts from herbicide treatments Biological Conservation Volume 212:300-309. https://doi.org/10.1016/j.biocon.2017.06.015
Awards
American Geophysical Union - Chapman Conference Travel Award
Society of Wetland Scientists Joint Aquatic Sciences Meeting- Best Student Poster
University of Florida Water Institute Symposium- Best Student Poster
NOAA Margaret A. Davidson Fellowship - View Video
USF Geosciences Tharp Research Fellowship
Leanne Stepchinski PhD student, Geology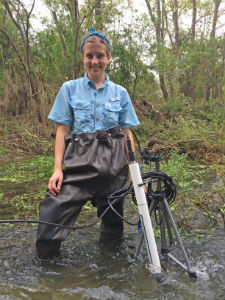 My research aims to increase understanding of our planet's water resources, as well as the impacts of climatic changes and human development on these systems. Previously, my work has included utilizing carbonate paleontology, sedimentology, and stratigraphy to characterize carbonate platforms in South China, and conducting assessments of groundwater and surface water systems in semi-arid to arid regions throughout Texas and in central Kenya. Currently, I investigate hydrologic connectivity within wetland complexes and the surrounding landscapes, especially within ephemerally to intermittently flowing headwater systems such as vernal pool wetlandscapes.
Research Links and Contact
Publications
Stepchinski, L. M., Rains, M., Lee, L., Lis, R., Nutter, W., Rains, K., and Stewart, S., (2023) Hydrologic Connectivity and Flow Generation from California Vernal Pool, Swale, and Headwater Stream Complexes to Downstream Waters Wetlands 43
Cleary, D.M., Stepchinski, L., Bertetti, F. P., Nunu, R., Green, R. T., Onac, B. P., In Review. Stable carbon and nitrogen isotope evidence of climatic influence on Brazilian free-tailed bat foraging strategies: Bracken Cave, Texas Anthropocene
Lehrmann, DJ, Stepchinski, L, Wolf, H. E., Li, L., Li, X., Minzoni, M., Yu, M., and Payne, J.L. (2021). The role of carbonate factories and sea water chemistry on basin wide ramp to high relief carbonate platform evolution: Triassic, Nanpanjiang Basin, South China. The Depositional Record target="_blank">https://doi.org/10.1002/dep2.166
Lehrmann, DJ, Minzoni, M, Enos, P, Kelleher, C, Stepchinski, L, Li, X, Payne, JL and Yu, M (2020). Giant sector-collapse structures (scalloped margins) of the Yangtze Platform and Great Bank of Guizhou, China: Implications for genesis of collapsed carbonate platform margin systems. Sedimentology 67: 3167-3198.
Lehrmann, D. J., Stepchinski, L., Altiner, D., Orchard M., Montgomery, P., Enos P., Ellwood, B., Bowring, S, Ramezani J., Wang,. H., Wei, J., Yu, M., Griffiths, J., Minzoni, M., Schaal, E., Li, X., Meyer, K., and Payne, J. (2015). An integrated biostratigraphy (conodonts and foraminifers) and chronostratigraphy (paleomagnetic reversals, magnetic susceptibility, elemental chemistry, carbon isotopes and geochronology) for the Permian-Upper Triassic strata of Guandao section, Nanpanjiang Basin, south China. Journal of Asian Earth Sciences 108:117-135.
Awards
Society of Wetland Scientists Joint Aquatic Sciences Meeting- Mark Brinson Best Student Oral Presentation
Society of Wetland Scientists- South Atlantic Chapter Student Travel Award
USF Genshaft Family Doctoral Fellowship
USF Graduate Research Symposium: Outstanding Student Poster (2021, 2022)
USF Geology Alumni Society Karen D. Harro Scholarship for Women in Geology
USF Geology Alumni SocietyRichard A. Davis (RAD) Award
NSF Nitrogen S-STEM Program Scholarship
USF Geosciences Tharp Research Fellowship
Tyelyn Brigino PhD student, Geology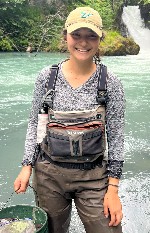 My research focuses on increasing the understanding of groundwater support for ecological and human communities. I am interested in using geochemistry as a tool to better understand groundwater as a shared resource between salmon populations and adjacent human users in the Lower Kenai Peninsula, Alaska. Specifically, I am investigating how groundwater contributes to the modulation of stream flow, temperature, and nutrient concentrations on an instantaneous and annual basis. I aim to assist resource managers and community members with water supply issues by providing information regional water resources.
Research Links
Awards
USF Delores Auzenne Fellowship- a two year fellowship awarded by the USF Office of Graduate Studies USF Graduate Studies
The Richard A. Davis (2023) and the Craig B. Hutchinson (2022) Memorial Scholarships- both awarded by the USF Geology Alumni Society USF Geology Alumni Society
Southeastern Geological Society Graduate Award- awarded by the Southeastern Geological Society SEGS
Society of Wetland Scientists Multicultural Mentoring Program Award (SWaMMP)- awarded by the Society of Wetland Scientists SWaMP
UF Water Institute Symposium Student Diversity Scholarship UF Water Institute
Fred L. and Helen M. Tharp Scholarship - awarded by USF Geosciences
STEM Scholarship- awarded by the American Association of University Women AAUW
NSF S-STEM Managing the Nitrogen Cycle Scholarship S-STEM
Abigail Reed B.S. student, Environmental Science and Policy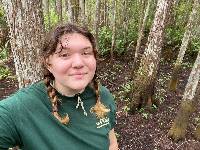 I am in the Judy Genshaft Honors College and majoring in Environmental Science and Policy with minors in Philosophy and Geology and am interested wetland science and water resource management. I am working with the ERG while conducting research for my Honors thesis related to alterations to wetland distribution and stormwater pond creation relative to social justice issues in the Tampa Bay region.
Research Link
Robert Vose B.S. student, Environmental Science and Policy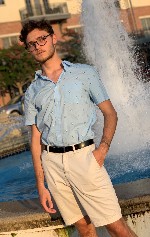 I am a senior in the Honors College majoring in Environmental Science and Policy with a minor in Urban Studies. I am currently working with ERG in using GIS to map changes in wetlands and channels to better understand the impacts of these changes on the local ecosystem. I am also currently completing my Honors thesis, which explores climate change resilience and vulnerability in my coastal hometown. I hope to eventually pursue a career in urban planning, focusing on sustainability, transportation, and equity.
Research Link